Happy Tuesday!

As you will discover, reading my blog, I do my best to post thoughts and ideas that are positive and inspiring, for you, for someone you know, and for myself. In this crazy world, this is how we help each other, by spreading positivity across the planet. I was actually going to post about something completely different until I started my day watching the movie "Heal" on Amazon Prime. (Note: I have no affiliation with Prime, I just want to let people know where they can watch the movie… as it's really a life altering movie to watch. It's so good and deserves a shout out!!!!!)
At a time in the world where our immune systems are needing to be stronger than ever, its important to realize that it all starts with your mind and your thoughts. A vaccine can only protect us so far – our body is only as strong as the thoughts we choose to think. This I have always known.

In 2016, as you read in other posts, I had cancer. And I truly believe that I caused my own cancer by the negative and anxious thoughts that I carried everywhere with me, at a time where I didn't know how to release them or avoid them. I had to learn to choose more positive thoughts to think.
Your body cannot fight illness if you consistently choose to engage in negative thoughts and habits. Choose what you read, what you watch, what you post on Facebook, what you eat and how you treat your body and you will become the strongest version of yourself. You have the power to heal yourself, to feel your best and to prevent almost any illness within you.

In celebrating the first Happy Thought Tuesday on the blog, I will share simply this: Choose the thoughts that best serve you and your body! I will probably often post about this, as it's a very important message to hear, especially in an age of anxiety meds and weird worldwide vaccines. And while I realize that some illnesses do require medical attention, is there not truth and strength in the idea that we can help our body's immune system avoid getting us sick in the first place? This is entirely in our control .
If you agree, watch this movie. If think I'm off my rocker for believing this, you most definitely need to watch this movie. It will open your eyes.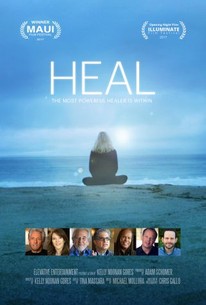 And with this, I wish you the happiest of Tuesdays!
Much love and strenght and positivity… from my mind to yours 🙂

Marion